Last summer I visited friends and family in New York State. As usual they asked I cook up something from New Orleans for them but it wasn't easy finding the right ingredients locally in the area so I improvised. The local store did have rice, sausage, frozen shrimp but rather than making up a bunch of spices and tomatoes I substituted the canned stewed tomatoes with mild chillies. They did not have the brand, Ro-Tel but they had a national brand similar. I tasted as I went along and added a touch of the curry powder to make the taste a little more exotic and put out Tabasco brand hot sauce so they could spice it up to their taste. Below is about what I did but change it to tailor your taste. These items should be found in any store in the USA.
1 lb bag frozen peeled shrimp
1 lb bag link Polish Kielbasa Sausage
1/2 lb Long Grain White Rice
2 cans stewed or diced tomatoes with mild green chillies
1/4 cup cut up celery
1/4 cup chopped onions
1/4 cup chopped bell pepper
Salt and Pepper to taste
Dash Curry Powder
Defrost the frozen shrimp a while. As usual sautee the onion, celery and bell pepper in butter to limp. Drain out the liquid from the canned tomatoes to measure to add back for the rice. Chop the sausage in thin round slices, the thinner the more it goes around. Prepare the rice as directed on the package usually 2 parts liquid to one part rice. Use the tomato liquid and add in any extra water to meet the rice directions. In a large kettle add the rice, liquid, trinity, (chopped o-b-c) and thinly sliced sausage. Dash in the Curry Powder, salt, and pepper to taste. Let cook per rice directions. About 8 minutes before the rice is done fold in the defrosted shrimp. Cook to done place in a fancy decorated platter and serve with bread and wine.
If you had time make a good easy bread pudding for desert.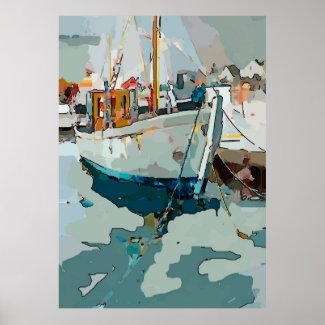 Shrimp Boat, abstract
by
figstreetstudio
I have this great Jambalaya t-shirt for sale here:
http://www.cafepress.com/figstreetstudio/5093748